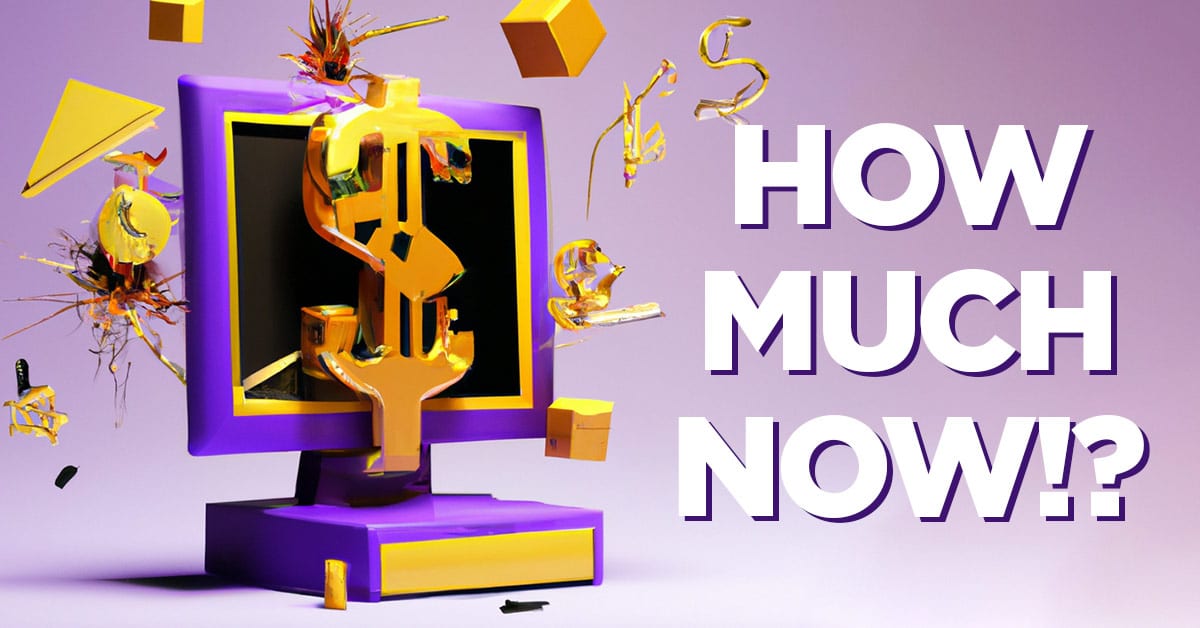 If you're researching ways to build or redesign a website for your business, then you'll notice that web design prices are all over the place.
You're probably going around in a circle in your head, asking yourself:
Why am I getting so much conflicting information?
What if I'm not sure what I even need to begin with?
These well-known agencies have quite the portfolio… but why don't I see a price anywhere?
Uh oh… that's because their starting rate is… Holy crap, who the heck would spend $50,000 on a website?
Can't I just get someone on Fiverr to do this for me?
Can I do this myself?
and finally…
Why is having a good website so important anyway?
In the last 12 years, the number of websites on the internet has increased from 210 million, to over 1.9 billion as of early 2022. That's a lot of competition for eyes and market share.
If you want your business to stand out above all that noise, you're going to need a stellar website.
You've gotta be…
Visually creative (so they don't immediately click away)
Strategic in your messaging (so visitors feel like they know / trust / like you),
and Trustworthy (so they feel comfortable taking action in the first place)
Yeah… that's no small undertaking.
Not only is there a lot involved to create or redesign a website, but web design prices (and quality) vary widely.
So let's explore the different tiers of web design prices, so you don't have to spend hours trying to make sense of the details yourself.
5 Types of Web Designers = 5 Tiers of Web Design Prices
Each type of web design service offers their own upsides and downsides. Different types of businesses will also benefit from investing in different tiers – it's obvious that what works for one business does not work for every business.
Tier 1: Large-scale design & branding agencies
Pricing: $15,000-$50,000+ ($$$$)
Average timeline: 4-6+ months, once you get a space on their calendar
Large-scale branding & design agencies create international marketing campaigns and high-visibility branding projects. Agencies place a ton of emphasis on the brand development process, providing a lot of up-front market research & concept work before even a color palette gets decided on. 
Agencies provide complete marketing strategies that go far beyond a simple website. After working with one, you can expect a fully constructed brand identity, which, as you might imagine, can be quite overkill if you have a small business.
Yes, you'll get a team of seasoned marketing experts – but you'll also get a massive bill that will take years to pay off. Larger (10+ employee) businesses with big budgets are most likely to invest in a large scale design agency.
Pros of working with a big agency:
Provide considerable up-front market research & concept work to support each branding concept
Complete marketing & ad campaign strategy
Websites, funnels, and graphic assets are created to support those campaigns
Extremely thorough and professional. You're getting the best of the best.
All aspects are handled, including design, development, marketing, and advertising
Cons of working with a big agency:
Agencies operate like a machine, which can feel less than personal
With that in mind, expect to work with a large team with a lot of moving parts.
The main contact person is likely not the designer working directly on your project, so there can be a disconnect between what has been discussed and what is delivered
Financially rewarding in the long term, but extremely pricey up-front.
Additional changes & revisions are costly, so you need to be clear about your goals & direction from the start
You'll enjoy working with a big agnecy if you're…
A larger business that has successfully established your offers / products AND has a loyal client or customer base
A large company or corporation that needs competitive marketing strategies so that you can stand out in a highly saturated market.
A company with a substantial advertising budget that demands results. You need to see a considerable ROI (return on investment) for your advertising dollars, and there is considerable expectation on the agency to deliver results. Yes, big money is spent, but big returns are demanded in exchange.
Large scale agencies are not a suitable choice for your custom website if your business revenue is less than $800k per year and you don't have a lot of experience working with a creative team.
2.  Boutique Web Design & Branding Studios
Pricing: $5,000 – $10,000 ($$$)
Average timeline: 2-3 months to completion (after booking)
These smaller-scale design studios serve to bridge the gap between impersonal "corporate-feeling" large scale agencies and the "anonymous-feeling" freelance job boards. These agencies usually have between 3-6 employees (versus 10+ at a larger agency) and therefore give clients the feeling that they're being taken care of by a trusted advisor. 
If you're running a small business, these agencies are better able to keep your "big picture" in mind while guiding you through the stages of a brand launch or re-launch. Their main goal is to help you showcase your logo / branding, launch your website / sales funnel, and help you get a return on your investment ASAP.
Expect to collaborate directly with the designer or lead creative professional on everything: from tossing ideas around, writing copy that drives conversions, or even gaining more insight into your business's overall direction (if you don't know where to start.)
Some of these agencies (like us here at Design Mastermind) will include features such as business coaching or copyediting in their custom website packages at no extra cost, and are part of why you are paying more for these services than a freelancer or lower-tier designer.
Pros of working with a small-scale agency:
Personalized, 1:1 guidance & support
All-inclusive design & development packages mean you won't need to juggle 5-10 different contractors who handle different parts of the project. You'll get a creative director who manages all the moving parts for you
Original, creative designs based on best practices & sales psychology
Big-picture strategy is woven into every part of the design & development process
Collaborative, detailed, big picture consideration
You'll be working with an enthusiastic specialist, who is more likely to go out of their way to ensure you get the website of your dreams
High-end, high-value final product ensures your investment will be set for years to come – no need to redo your website every 2-3 years
Usually offer flexible installment plans to pay for the project
Up-front proposals and quotes guarantee project deliverables (so you won't encounter as much "nickel and dime-ing")
Cons of working with a boutique design studio:
Less in-depth market research and more focus on creating a unique, stand-out design
Do not specialize in commercial-sized ad or marketing campaigns
Smaller team means it may take more time to get your project on their calendar in the first place
Still a rather sizable investment if you are starting from scratch
Ongoing services such as SEO, marketing and advertising may not be included in design packages
You'll love working with a boutique design studio if you're…
A growing businesses that wants to scale your audience, revenue, etc.
An entrepreneur or influencer who has a specific, niche audience
An eCommerce business that's just starting out
A business that rely on brand awareness and personality marketing (such as coaching & consulting, health & wellness, or creative professionals such as photographers)
The limitations of smaller agencies is mostly of demand. To get one with proven results, you may need to wait weeks or months. These are passionate artists in every sense and are personally invested in your project's success.
When comparing web design prices for a custom website, you'll see a lot of bang for the buck from smaller scale agencies. The advice you'll get is based on their direct experience working with businesses that have similar goals to yours.
3. Freelancers (hired on platforms such as Upwork or Fiverr)
Pricing: $1500+ ($ – $$)
Average timeline: 1-3+ months
Freelancers in the gig economy flock to sites that can introduce them to clients who are in the market to hire quickly so they earn money quickly.
Upwork is considered the "upscale version of Fiverr", but both depend on defining the project in detail to get the most competitive and accurate pricing. If you don't, expect to sift through irrelevant proposals that take the bulk of your time.
Pros of working with a freelancer:
Extensive search functions help you to find the right freelance specialist
Usually offers the choice between hiring hourly or paying in a lump sum
Ability to choose between higher cost and low-cost project rates
Choose from different specialists with different portfolios, so you can pick the one that's best for your project
Many freelancers offer quick turnaround, which can be great if you need a small project done FAST
Cons of working with a freelancer:
Don't expect to get personalized service or input on your business
Requires you to have a specific vision in mind and know exactly what you need from them ahead of time
If you book them through a service like Upwork, then a steep commission is paid by the freelancer. This means that freelancers often charge MORE than what they would normally charge for their services (no matter what quality they offer).
As with any market, lower prices do not guarantee a high quality final product
Language barriers can sometimes be an issue. Certain needs or requests may get lost in translation.
Time consuming. Will require you to sift through a lot of proposals from specialists who may not be a good fit.
High risk of duplicate or cookie-cutter designs
Reputation for unreliable reviews
You might love working with a freelancer if you're…
A business owner that knows precisely what you want done and has clear markers for what "successful completion" actually looks like
An entrepreneur that just wants to get the job done and doesn't care as much about what it looks like
A hiring manager or VA whose job it is to sort through stacks of candidates for one-off jobs
An enterprise client that want to pay extra for pre-vetted, handpicked freelancers
When comparing web design prices, it's tempting to make cost the deciding factor. But that can sacrifice quality in the finished product. Since payment is tied to project completion, the faster it gets done the sooner the freelancer gets their money. That quick turnaround can come at the cost of originality and attention to detail.
4. Spec work (Design competitions such as 99 Designs)
Pricing: $1,300+ for logo + website on Squarespace ($ – $$)
Average timeline: 2-6 weeks
Design competition sites like 99 Designs claim to host "the biggest, most diverse, and most talented designer community around the world." With higher quality design than Fiverr, they only focus on one thing: graphic design.
Disclaimer here: I will not be able to be impartial when it comes to spec work. I'm not a fan. This sort of work is popular with students who can afford to not be paid for their time, but ultimately these services devalue the creative effort it takes to come up with even ONE design, spoiling the perception of how much design work is worth in general.
Pros of spec work:
Variety of design choices, depending on how much you spend
See designs up-front and choose which one you like the best
Only pay for the best designs
Cons of spec work:
A LOT of student / novice work to sift through
Not a lot of room for back-and-forth. What you see is what you get.
You won't get big-picture marketing or business input. Very little interaction with the designer.
You need to essentially be a designer yourself to know what 'good design' looks like on these platforms, so unless you have experience in marketing & design, you may end up with something that is not effective
High risk of ending up with something that needs to be redesigned within a year
Risk of decision fatigue and overwhelm
Designs are only as good as the project brief, so you need to be extremely clear about who you're selling to and what you're selling in the first place
Only offer Squarespace fixed packages with minimal customization options
"Spec work" in general devalues the work of real design professionals. These websites are the "unpaid internships" of the design world
You might love spec work if you're…
A business that is 100% clear on exactly what you're looking for
An entrepreneur that has all the specific details decided, and just need an artist to put it together
A designer who has experience and knows exactly what to look for in an effective design
If you need guidance on where to start your project or how all the design pieces will work together, this is not the option for you. Again, price may be the deciding factor only if you already have all the marketing pieces figured out yourself. You won't be finding any extra direction here.
5. Doing it yourself (using services such as Squarespace, Wix, Weebly, or Showit)
Pricing: $500+ per year for hosting & access to the platforms ($)
Average timeline: Depends on your experience, dedication to completing the project, and comfort with tech / design. It could take 2 weeks, or it could take years.
Here's something that might surprise you: of those 1.9 billion+ websites on the web, less than 200 million are active. One reason customers buy domains that are never published is because creating a website is a heck of a lot harder than they expected.
Pros of DIY:
Full control over everything
Cheapest possible option
Lots of nice looking templates to choose from on these platforms
Can be super fun if you're into web design & development as a hobby
Cons of DIY:
Full responsibility for absolutely everything… including things that you might not think of such as SEO, copywriting, page speed optimization, and photography
Requires you to know what sells, and what constitutes effective design. Otherwise your time could be wasted
Can be extremely time consuming, especially if you have kids, other jobs or side projects
DIY website platforms are more difficult to customize, and may not be appropriate for your business in the future if you intend to scale
Risk of needing to redo the website once your business starts making money
Time spent on DIY means time NOT spent on marketing, business building, working with clients, etc.
Unlikely to be optimized for speed
You might love DIY if you're…
A resourceful business owner that has more time than money
A business that has a lot of beautiful photography (such as restaurants, photographers or wedding planners) – Many website templates look great out-of-the-box if you have good photography to pop into them
Someone that already have design and/or website development training
A "side hustle" business that doesn't rely as heavily on your website to generate sales
An early-stage entrepreneur that thrives on self-imposed deadlines (and caffeine.) NO. SLEEP. TILL WEBSITE!
Here's what it comes down to…
It's tempting to compare web design prices and go with the least expensive option. But when you take into account the risk of having to potentially redo everything in a year or two, those cheaper options can actually cost you more in the long run.
Ultimately, if you're a small business or entrepreneur who wants to get the most bang for your buck, you should work with a small-scale design agency that has the strategy, the big-picture mindset, the broad skillset, and the heart to get your business where you need it to go.
Oh HEY! That sounds like us…
If you're a small business or entrepreneur looking for an effective, high-converting sales funnel or website, then check out Design Mastermind's premium website packages:
4 Weeks to Web Business Kickstart Package: Set your new business up for success with a quick-turnaround, done-for-you website & branding package that helps you grow your online sales with total confidence.
Sell-it-Out Custom Sales Funnel: Together we'll streamline your next big launch, perfectly position your new offer with the right audience, and get your ideal clients & customers excited to BUY!
Built to Scale Custom Website: Our signature high end website design + tech package get you a gorgeous, scroll-stopping website that funnels new clients exactly where you want them to go.​
Can't wait to see how YOUR website project transforms your business!
Yours in high-value prices,