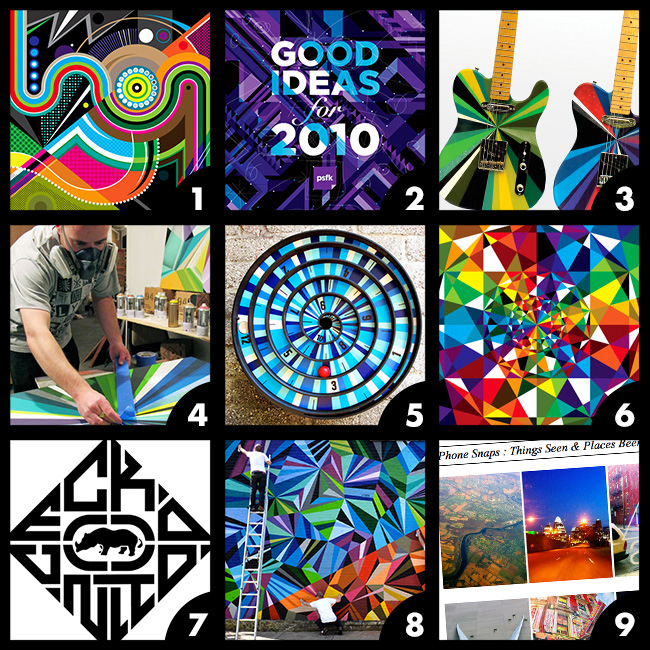 A recent artistic obsession of mine goes by the name MWM GRAPHICS. He is the abstract artist, illustrator, muralist, and product designer of my dreams, sort of my own version of a celebrity crush. If I met him I don't think I'd quite know what to do with myself. To honor this brilliant visual magician I've put together 9 reasons why I think he's worth obsessing over. All credit goes to the man himself, Matt W. Moore.
1. He is a vector artist. This is such a modern medium that it is the primary export graphic for HTML 5 Canvas (in SVG format). That means that this art form is quite literally code-based. But not to Matt, who transforms the pen tool into an extension of his own paintbrush. The seemingly random assortment of shapes, both straight and curved lines, as well as repeating background pattern elements give these compositions a truly organized feel.
The fact that they are so chaotic is almost surprising given how well all the elements fit into and around each other with pixel-perfect certainty. Not to mention his use of color fully syncs in line with my own personal concept of vibrancy. I have actually take screen shots of his various works and used the eyedropper tool to sample colors for my projects' palettes. They are that well organized. The effect that is produced is immediate. The viewer is drawn into his more detailed prints, scoping each zone out separately in order to better appreciate the piece as a whole.
2. He is a graphic designer. His layouts for Wired Magazine left me reeling, and his design prowess is so amazing that he has been commissioned to brand entire events from start to finish. His designer / artist duality leaves me wondering how he has time for anything at all, but I can see how he must incorporate vector elements from his previous projects into new ones and recycle palettes & styles. You can't plagiarize when you're copying your own style, and this guy has perfected his style to a T. My favorite implementation of his design work was a set of typography illustrations he put together that fuzed the vibrant, abstract character of his vector illustrations with a font style that he drafted himself.
3. He's a rock star. Well, not really (although I wouldn't be surprised if he played some instrument), but he sure knows how to come close! While his individual vector works tend to be highly detailed and riddled with chaos, his product designs channel the mathematical accuracy of his process onto real world objects. The way a design is implemented on an object has always fascinated me, and when it comes to tossing a pattern on something, people tend to be rather lazy. But this guy knows how to grasp the essence of an object and render it simply, beautifully, through color and shape.
4. He shows his work. Literally. He documents the hands-on process of art piece creation with intensity, posting it alongside the finished product, allowing people to glimpse the real-ness of the work he sells. It's one thing to just send a high-quality graphic over to a printer and wait for the proof, but he painstakingly tapes each boundary so that not a drop of spray paint passes into improper territory. The time and effort he puts into his work helps the viewer appreciate the seemingly computer-generated imagery and gives it a meaningful, human element.
5. He makes stuff like this exist. This is a working clock. It operates by spinning on a center axis and using gravity to pull the silver ball along minute by minute, for 12 hours. Then it *dink!* resets itself by falling into place at the edge. His line of art deco-style home decor further exemplifies how well he adapts to tossing his talent around to many different mediums.
6. He's obsessed with sacred geometry. As am I, of course. The language of the universe speaks through his hand-drawn & vector series that depicts the majesty of mathematics in a highly unique way. A lot of these works are simple lines, which serve to honor the shape itself without overindulging in color and contrast. A favorite of mine is a $100 print which is a rendered red/blue 3D fractal piece that even at 100x200px sends me flying into another dimension.
7. He designs logos. Famous ones. That's right, not only does he handle whole design contracts, but he takes the branding a step further by creating it from scratch. He has even been commissioned to reinvent existing logos that needed modernization. This one in particular is for Ecko United clothing brand. Since my favorite part of being a graphic designer is generating the face of a business, brand, or individual, it's no wonder why I marvel at the way Matt fuzes illustration with typography, even if he has to incorporate existing features (like the rhino above).
8. He thinks BIG. Like really big. His huge whole-building murals dot the urban landscape of Paris, New York, Tokyo, Sao Paulo, Oakland, and all over the world. His enormous installation pieces and collaborations are featured in several art galleries and the whole process is completed on such a gigantic scale that it leaves me in awe of how much foresight he must need to piece together such an extensive spray paint utopia. You can get a lesson in layering just by watching the way he applies the tape and overlays elements.
9. He's a shutterbug. And actually one of the bloggers who inspired me to use the 9-frame cropped layout for putting my posts together. The "iPhone Snaps" he posts to his blog really let you get to know the man behind the art, and give you insight into how he sees the world. Have phone, will travel! And what better way to connect with your fans than by letting them glimpse into what you find interesting in the world around you?
Now if you'll excuse me, I'm going to go reinvent my style some more… Needs more lines & color!
•laurabaurealis•